◆ Other story

UK tsunami victims' memorial to be unveiled
By Mario Cacciottolo and Gerry Holt BBC News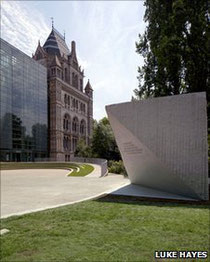 "I still can't get over the shock and horror of it. I live with it every single second of every single day."
Kim Peatfield's loss of her five-year-old daughter Isabella in the tsunami which tore through South-East Asia in December 2004 has, naturally, left her with mental scars that she still finds hard to heal.
She will be among those attending the unveiling of a memorial at the Natural History Museum, in London, in memory of 155 UK citizens who died in the disaster.
Isabella was one of the youngest UK victims of the tsunami in the Indian Ocean, triggered by an earthquake off the coast of Indonesia on Boxing Day 2004. The giant waves killed hundreds of thousands of people in 13 countries.
Mrs Peatfield and her husband Tristan, from Mappleton, near Ashbourne, Derbyshire, were on a last-minute holiday in Tangalle, Sri Lanka, when the tsunami struck.
When the wave forced them from their bungalow, the power of it tore the family apart. Isabella's parents were reunited after two days' searching but their daughter did not survive.
'Utterly devastating'
"I think it's a wonderful thing to commemorate those people whose lives were tragically taken away in the blink of any eye when they were on holiday," Mrs Peatfield said.
"Six years is a long time and people have moved on and have forgotten that absolutely dreadful Boxing Day morning.
"It is a way to get people to stop for a moment and remember that morning all those years ago and how utterly devastating it was for everybody across the world.
"Everybody knew somebody who was involved. Everybody knew somebody who had gone."
The granite monolith, dedicated to the UK victims, is located in the museum's Darwin Centre garden and was funded by a £550,000 grant from the Department for Culture, Media and Sport. Its unveiling ceremony will be attended by the Prince of Wales and the Duchess of Cornwall.
Mrs Peatfield said the Natural History Museum was, for her, a fitting location because her family had spent "the most amazing day" there the year before Isabella died.
The memorial's creation was co-ordinated by the Tsunami Support UK (TSUK) group, which is run by volunteers.
MEMORIAL STATISTICS
Memorial is 3.75 cubic metres
Weighs 115 tonnes
Stone quarried from Les Carrières Plo near Toulouse, France
The memorial itself was designed and built by the architects Carmody Groarke, who were also responsible for the Hyde Park memorial to the victims of the 7 July London bombings.
Samantha Archer Fayet, 32, died at the resort of Khao Lak, in Thailand, while trying to protect her six-month-old daughter Ruby Rose.
Mrs Fayet, a fashion model booker from London, who lived in Paris, was washed away with her daughter despite the desperate efforts of her French husband Patrice to save them.
Her father Andy Archer said it was important the victims were not forgotten and described the memorial's location as "wonderful".
He said: "It's something you can centre on and it means they are recognised in some way. It's somewhere you can relate to.
"She just enjoyed life. We will always miss her."
Differing meanings
Michael Holland, 57, is chairman of the memorial project board, which has overseen the monument's creation.
He was on a family holiday in Thailand when the tsunami struck and his daughter Lucy, 15, his wife Jane, 49 - the daughter of Lord Attenborough - and Mr Holland's 81-year-old mother, also called Jane, all died.
"This huge, singular geographical fragment will create a powerful reminder for generations to come of this momentous event within the Earth's natural history," he said.
"Its purpose is to stop people forgetting. Within this new public space, the memorial also offers a place for more quiet contemplation.
"With so many people affected by the tsunami, the memorial will mean something different to each of them."
Mr Holland said the number of British losses were "mercifully small" compared with the overall death toll, which is estimated as at least 225,000 - the final number has never been confirmed.
He also said that the Natural History Museum was chosen as a location "because there are many, many memorial statues dotted around London, and people pass by without understanding why they're there.
"In having a memorial at the museum, we hope people will engage and remember and learn something about the background to tsunamis generally."
'Engaging and unique'
The memorial was designed by the architects in consultation with several of the victims' families.
Carmody Groarke commented: "It has been a huge privilege to work with the survivors and bereaved families to design a permanent memorial in such a significant public space.
"Our collective intention is to make a fitting, engaging and unique memorial - a place for contemplation and remembering for generations to come.
"Our goal was also to give the memorial stone a strong architectural relationship between the bold buildings and landscape of the Natural History Museum."
Dr Michael Dixon, director of the museum, said it was "fitting" that it should house the memorial.
"An important part of our mission is to make sense of the natural world and I hope this memorial will not only bring comfort to those who lost loved ones in the tsunami, but also be a reminder to us all of the powerful and sometimes destructive force of nature."