Memorial Stone of the Tsunami
◆ Project Purpose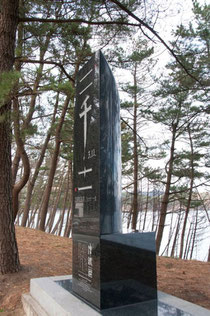 Earthquake East of this degree is now the earthquake of unprecedented experience has never been anyone in modern Japan.
We will sincerely sympathy with the people I pray for the repose of his soul sincere, was a victim and a number of relatives of missing people who died in the earthquake still can be found at this.

We also survived who also dropped the chagrin of merchants affected among all excellent stone.
Many of the merchants we may not able to fully understand the anxiety you feel and your far everyone has been affected from the disaster area still.

But
One for all All for one (one person for everyone, all for one person)
(You're not alone Let's fight! At all!) You'll Never Walk Alone
There are in our mission believe that the important thing, that there is hope for the future equally to anyone this word, stand up for the reconstruction of Japan in the future is alive.

I think the future, or reconstruction is spent on manpower and funding, how much time is probably impossible to determine, and everyone understands. Considered in each position of many people "now, to yourself? What can be done" and already, the action is folded.
All A's in stone since the earthquake, we have the affected areas and reconstruction assistance activities as a professional group of stone.
Start the project was built "stone storage tsunami" so as part of, become more far from the mind of those who are affected convey a message to posterity long.
Going to tell posterity carved in stone the lessons and, with the facts andby building a monument to the memorial to the disaster area who are victims of earthquake tsunami in eastern Japan.
Aim the establishment of the monument of the group 500 to the disaster area.
Leave the monument as an art.
◆项目的目的
现在这种程度的东大地震是前所未有的经验,地震从未现代日本的人。
我们将真诚的同情,我祈祷安息他的灵魂真诚的人是受害者和一些在地震中死亡的失踪人员的亲属仍然可以在此找到。

我们还幸存下来,谁也下降的影响各优秀石材商人懊恼。
众多的客商,我们可能无法完全理解的焦虑,你觉得你远的每个人都已经从灾区仍影响。

但
一人一总而言之
你永远不会独行

有我们的使命认为最重要的事情,有对未来的希望,同样,任何人这个词,主张日本在未来的重建是活着的。

我想未来,或重建上花费的人力和资金,多少时间,大概是无法确定,每个人都明白。在每个位置"很多人现在认为,自己可以做些什么",已经折叠,动作。
在石头上的所有A是地震发生以来,我们的石材专业组和受灾地区的重建援助活动。
启动该项目建成"石头存储海啸"的一部分,所以,越来越远离那些受到影响后人长传达一个信息的头脑。 
要告诉后人刻在石头上的经验教训的事实,并通过建立纪念碑纪念在日本东部地震海啸受害者向灾区。

旨在建立组500灾区纪念碑。离开作为一种艺术的丰碑。